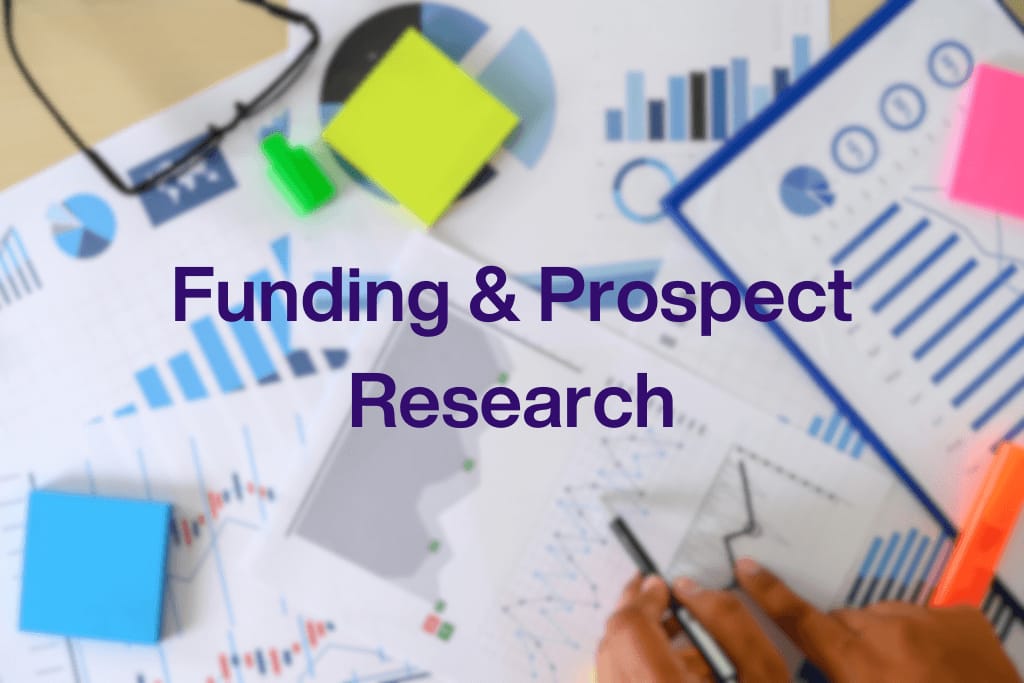 We understand the importance of funding and prospect research for nonprofits in Denver, CO, and beyond. Our comprehensive funding research and prospect analysis services help you identify funding opportunities and cultivate meaningful relationships with potential donors. Whether you're looking to research prospects, explore funding options, or develop a strategic funding plan, we have the expertise to guide you. Our services include:
Prospect Research: We specialize in thorough prospect research, allowing you to uncover individuals, corporations, and foundations with a demonstrated interest in supporting causes like yours. We conduct in-depth analysis using a variety of sources to provide you with valuable insights on potential donors and funders. By understanding their philanthropic interests and giving patterns, you can effectively tailor your approach and engage them.
Funding Research: Securing funding from various sources is crucial for nonprofit sustainability. Our funding research services enable you to identify diverse funding opportunities that align with your mission and goals. We conduct comprehensive research, exploring various funding sources, including grants, sponsorships, corporate partnerships, and individual giving programs. We analyze funding guidelines, eligibility criteria, and application requirements, providing you with curated options to explore and pursue.
Funding Strategy Development: If you're wondering how to get funding for nonprofits, having a solid funding strategy is crucial for supporting your organization's mission and programs. We work closely with you to assess your funding needs and develop a customized strategy. Our approach combines data-driven insights with industry best practices, helping you create a comprehensive funding plan. By aligning your resources, strengths, and goals, you can effectively research potential funders, identify funding streams, and maximize your chances of securing support.
Prospect Cultivation: Cultivating relationships with potential donors is essential for successful fundraising. We provide expert guidance on prospect cultivation strategies, helping you build meaningful connections and engage potential funders. We assist in developing personalized cultivation plans, crafting compelling messaging, and leveraging various communication channels to nurture relationships and inspire philanthropic support.
Prospect Management and Tracking: Effective management of your prospects is crucial for successful fundraising efforts. We assist you in developing prospect management systems and tracking mechanisms to streamline your efforts. We help you organize and prioritize prospects, track interactions and engagement, and create personalized cultivation plans. By leveraging prospect management tools and techniques, you can enhance your fundraising outcomes and build stronger relationships with potential funders.
Training and Capacity Building: We believe in empowering nonprofits with the knowledge and skills necessary for fundraising success. Our training and capacity-building services provide you with the tools and resources to excel in funding research and prospect analysis. We offer workshops, webinars, and coaching sessions tailored to your organization's needs. We will guide you through conducting effective funding research, understanding prospect profiles, and developing compelling strategies to secure support.
At Acuity Consulting, we are committed to helping nonprofits in Denver, CO, and beyond unlock their funding potential through strategic funding and prospect research analysis.
Contact us today to discover how our funding and prospect research services can propel your organization toward sustainable growth and impactful fundraising.