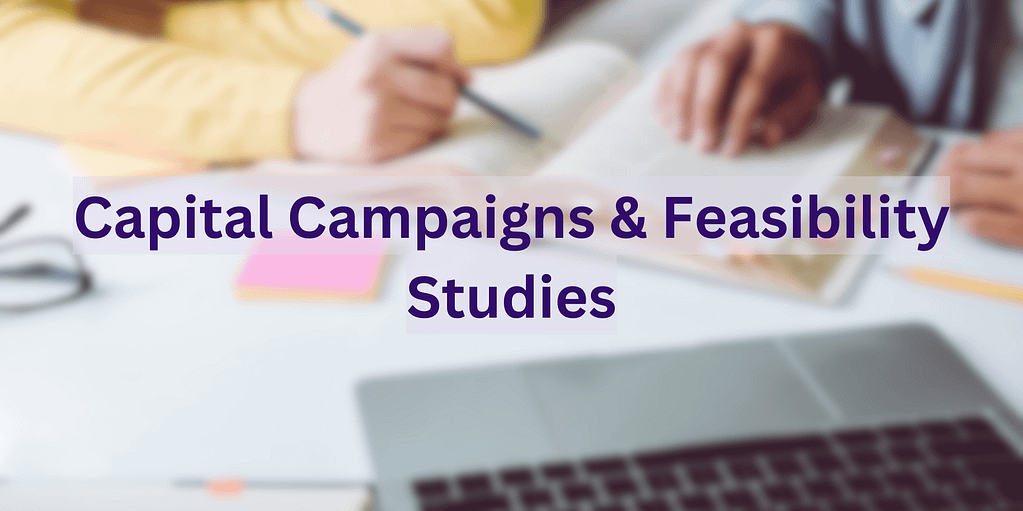 We are committed to assisting nonprofit organizations in their capital campaigns and feasibility studies, ensuring their fundraising success, and realizing their organizational goals.
Capital Campaigns Guidance
As a trusted nonprofit capital campaign guide, we understand the importance of capital campaigns in driving the growth and impact of nonprofits. We specialize in providing comprehensive campaign services to nonprofits in Denver, CO, and beyond. Whether you are planning a capital campaign, fundraising campaign, or seeking guidance on what a capital campaign is, and how to execute the best fundraising campaigns, we have you covered. Our range of services includes:
Strategic Planning: Collaborating closely with your organization, we develop a customized capital campaign strategy that aligns with your mission, vision, and long-term objectives. Our expertise in campaign services ensures that your fundraising campaign plan is well-defined and tailored to your specific needs.
Prospect Research and Analysis: Leveraging our expertise as grant writers near you, we conduct in-depth prospect research to identify potential major donors who resonate with your nonprofit's values and philanthropic interests. Our thorough analysis and fundraising campaign plan help maximize donor engagement and contributions.
Donor Cultivation and Stewardship: Building solid relationships with your donors is vital to the success of your capital campaign. Our nonprofit coaching services provide expert guidance on donor cultivation and stewardship strategies, ensuring effective communication and fostering lasting partnerships with your valued supporters.
Feasibility Study Service
When it comes to feasibility studies, we are the trusted feasibility study consultant for nonprofits. We provide comprehensive feasibility evaluation services to help you assess your fundraising initiatives' viability and potential success. Our expertise includes:
Research and Assessment: We conduct thorough research and assessment to evaluate the feasibility of your nonprofit's fundraising goals. By examining market conditions, donor readiness, and campaign capacity, we provide valuable insights and recommendations to guide your decision-making process.
Surveys and Interviews: Through surveys and in-depth interviews, we gather essential feedback and perspectives from key stakeholders, including board members, major donors, staff, and community members. This data-driven approach informs strategic decision-making and helps develop a strong fundraising case statement.
Financial Analysis: Our fundraising analysts perform rigorous financial analysis to assess your organization's financial capabilities and determine realistic fundraising targets. We provide comprehensive reports and actionable recommendations to help you make informed decisions and set achievable goals.
We are dedicated to helping nonprofits in Denver, CO, and nationwide achieve fundraising success through our campaign services, capital campaign expertise, and nonprofit consulting services. Our custom fundraising solutions are designed to meet your unique needs, from nonprofit case statement examples to complete, comprehensive fundraising campaign plans.
Contact us today to embark on a successful capital campaign or feasibility study journey.